2013 is going to be an exciting year -- hey, it's already starting with a BANG!!!  
I'll be doing a 4-city tour of Italy including Torino, Alassio, Latina & Genova. I'm happy to announce I'll be working with Italian bassist, Giovanni Sanguineti & drummer, Paolo Franciscone, who also happens to have worked with my father.  This will be our first collaboration; we'll be covering some of my favorite Mal Waldron compositions (many of which I've never performed before) as well as other tunes from each of our individual recordings. 
So, the tour kicks off in Torino on Jan. 23 and we finish up at Villa Bombrini (Jazz Lighthouse) in Genova on Jan. 26.  If you happen to be living in any of these cities, I hope you'll be able to come out and join us.  Here is some information on the venues.  I'll share more as it becomes available.  Best wishes to you for the new year & be sure to check back so I can fill you in on some of the other exciting projects that are currently in development!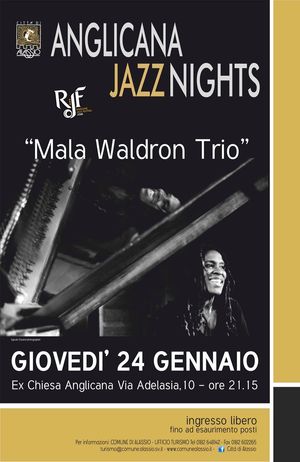 Thurs. Jan 24 ~ Anglicana Jazz Nights in Alassio
Sat., Jan 26 Villa Bombrini / Jazz Lighthouse
Muratori 5, 16152 Genova, Italy