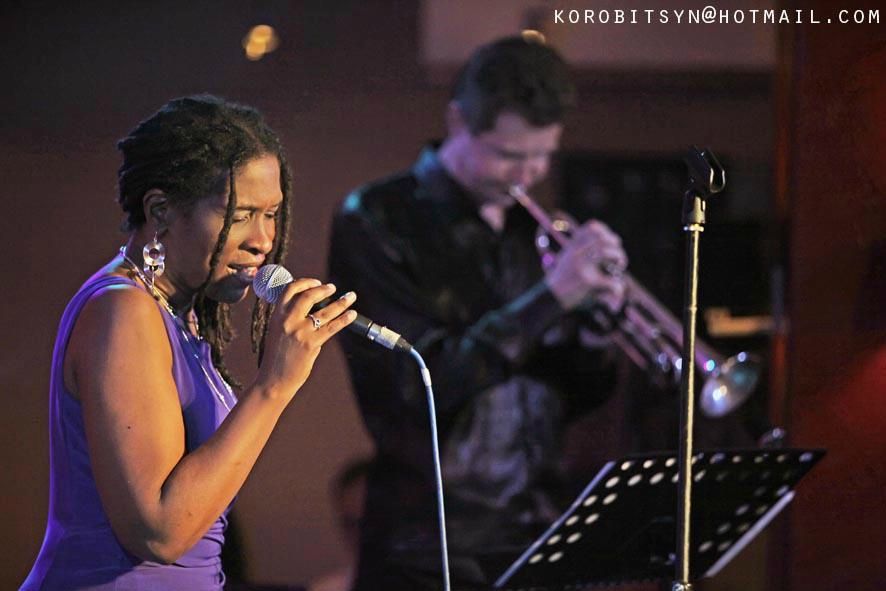 August 7, 2012 -- I just got back from Moscow and what a great time I had!  It was my first time there and the plan was for me to bring my music and perform there with local musicians.  A little risky, I suppose, but I'm an optimist so I was up for the adventure.  I decided to go for it.
I'm happy to report I have no regrets.  The band, led by trumpeter, Roman Ivanov, was all I could have wished for.  Top-shelf musicianship, professionalism and just really nice guys!  Dmitry Yacovlev (piano), Jack Pechnikov (bs) and Adel Sabirjanov (dms.)
I was impressed with the way we were able to communicate via the music despite the language barrier (I don't speak Russian, they spoke very little English.)  And the audiences were really with us from the first note.  The first night we played at Soyuz Kompositorov and the following night we were at the B2 Club.  I spoke to both audiences not really knowing if anyone would understand what I was saying.  But I could hear there were some who were totally with me.  And as for the others who couldn't understand my words, the VIBE was all we needed.  There's just something about when an audience is with you, it's palpable and real, and there's no doubt in my mind we were connecting.
There was a wonderful photographer, Vladimir Korobitsyn, capturing the mood the first night and he did a terrific job.  You can see the rest of the pix on the FB Fan Page: www.facebook.com/Mala.Waldron.FanPage  I'll eventually upload them here too, when I have some time.  
On a side note, most times I perform in other countries, I rarely have time to see any of the local sights.  This time, in spite of the brief length of the trip, there was actually a little time for sight-seeing, thanks to Marina - the nicest Russian lady who's job it was to escort me around and act as translator for me.   She took me around to see the Kremlin and so many other things, explaining knowledgeably about their history.  The weather, by the way, was perfect (like Spring.)  It was actually nice to escape the humidity of New York for a couple of days.
SO, all in all I'd say it was a very successful adventure.  Would I do it again?  As a famous Alaskan might say, "You betcha!"